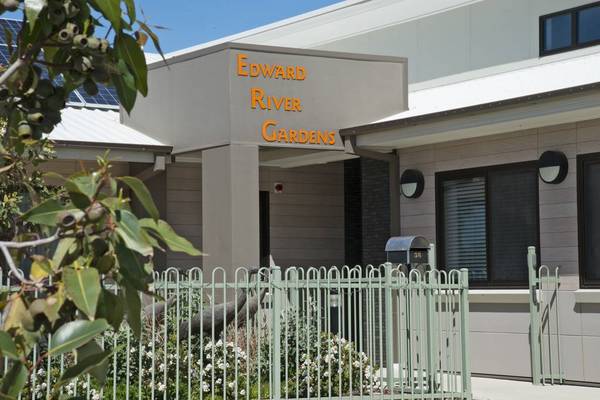 Welcome to Edward River Gardens
Edward River Gardens is a modern Residential Aged Care facility situated on the banks of the picturesque Edward River in Moulamein, south west New South Wales. It offers a range of accommodation from Independent Living to 24 hour support and services tailored to personal needs. Our residents live in a safe, comfortable and pleasant environment.
Our highly qualified professional staff provide a caring service with a focus on wellbeing and lifestyle. We understand the need for company and companionship.  Edward River Gardens has a homely atmosphere where family and friends are encouraged to call in, participate in activities, or just have chat over a cuppa or a game of cards.
Our Resident Bus takes our residents on regular excursions to places of interest, to Swan Hill for shopping trips as well providing transport for medical referrals. Our end of week "Happy Hour" is a popular social event, where residents enjoy a meal and drink on a Friday.
When daily living becomes too challenging, Edward River Gardens provides support and services tailored to personal needs. We invite you to visit Edward River Gardens to experience our homely accommodation and serene riverside environment offering a fulfilling living experience.  You will not be disappointed and we encourage potential residents to consult their family and medical practitioners so they can make an informed choice with confidence about moving to Edward River Gardens.